The lower and middle class represent the majority of Americans. This group will gain strength and influence in the coming years as it challenges the one-percenters' power in shaping the policies and affairs of the country. The 2016 elections will be a transforming event in history where the policies affecting the middle class appear to be in the front, middle, and back of America's public discourse.
Most Americans consider themselves to be the middle class. According to a survey by The New York Times in 2005, only one percent of the respondents considered themselves to be "upper class" and only seven percent considered themselves part of the "lower class." The rest, 92 percent, considered themselves middle class. Most of the middle-class people are working people who do not have enough wealth to invest. However, a 2012 survey report by Pew Research states that only 49 percent (from 92 percent seven years earlier) of adults describe themselves as "middle class," which seems to be manifested during the 2016 election cycle for a change.
There is a common desire among all Americans, regardless of their socioeconomic background, to have financial security and a better life for their children. They want to have affordable healthcare for their family, provide education to their children so that they can have a better future, own a home, and save for retirement. So how is the middle class defined?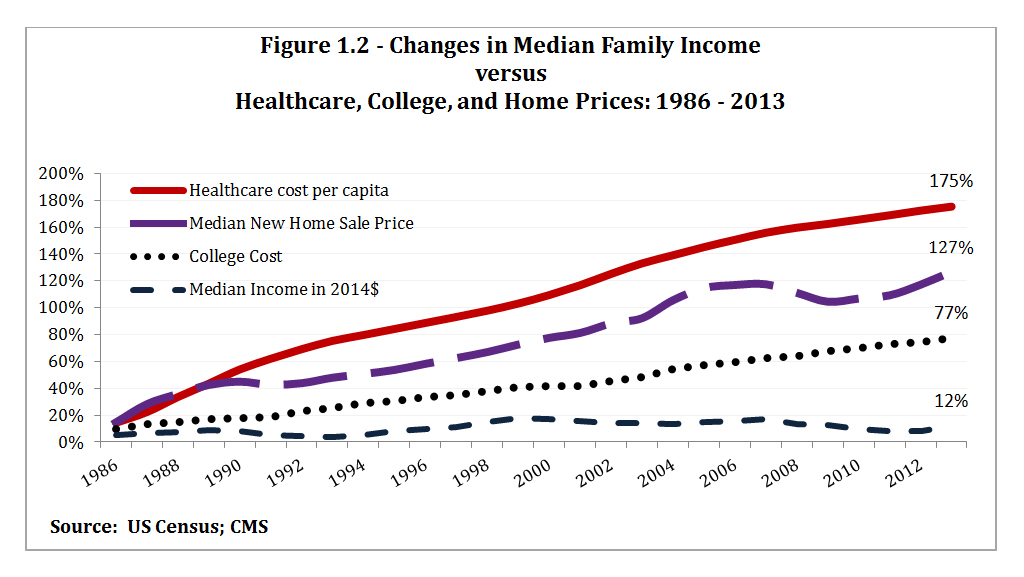 According to a Pew Research Survey, 85 percent of self-described middle-class adults say it is more difficult now than it was a decade ago for middle-class Americans to maintain their standard of living. One of the reasons is that the cost of key components affecting the middle class is growing at a faster rate than their income, which has remained relatively flat over the last twenty-five years (Fig 1.2).
Buy at: